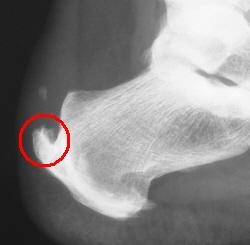 Overview
A heel spur (or osteophyte) is a small bony growth or collection of bony growths on the back or underside of the heel. They may or may not cause pain, and patients often confuse heel spurs with a related condition known as plantar fasciitis, inflammation of the band of tissue that stretches from the ball of the foot to the heel, forming the arch. Many people have bone spurs without ever knowing it, and about 70 percent of patients with plantar fasciitis who do have discomfort will also be found to have a heel spur when observed via X-ray. It is likely that a bone spur forms as the body tries to repair itself from repeated injury by laying down extra bone at the site of trauma. Plantar fasciitis is typically another result of such trauma. Heel spurs are most often seen in middle-aged men and women, but can be found in all age groups.
Causes
The plantar fascia is a big strong ligament on the bottom of the foot, starting at the bottom of the heel bone and running into the ball of the foot. As the arch of the foot becomes weak, it sags slightly with each step and this causes the plantar fascia to tug and pull at the heel bone with each step. Over a period of time, a spur forms where this big strong ligament tugs and pulls at the heel bone. Soon, inflammation (swelling) starts around this spur and the pain becomes almost unbearable. (Sometimes heel spurs may be present without being painful if no inflammation is present).
Symptoms
Heel spurs often do not show any symptoms. If you have intermittent or chronic pain when you walk, run or jog, it may be heel spur. There will be inflammation the point where spur formation happens. The pain is caused by soft tissue injury in the heel. Patients often describe the pain as a pin or knife sticking to the heel. The pain is more specially in the morning when the patient stands up for the first time.
Diagnosis
Diagnosis is made using a few different technologies. X-rays are often used first to ensure there is no fracture or tumor in the region. Then ultrasound is used to check the fascia itself to make sure there is no tear and check the level of scar tissue and damage. Neurosensory testing, a non-painful nerve test, can be used to make sure there is not a local nerve problem if the pain is thought to be nerve related. It is important to remember that one can have a very large heel spur and no plantar fasciitis issues or pain at all, or one can have a great deal of pain and virtually no spur at all.
Non Surgical Treatment
Heel pain may be associated with a heel spur, however the heel pain is usually due to plantar fasciitis, rather than a heel spur, so treatment is usually directed at the plantar fasciitis itself. Treatment usually involves application of ice to reduce pain and inflammation, special stretching exercises, and pain-relieving or anti-inflammatory medicines. Night splints or orthotics may be recommended. It may help to avoid the activities that aggravate pain, such as long walks and running. Surgery is very rarely recommended and only after other measures fail.
Surgical Treatment
Surgery involves releasing a part of the plantar fascia from its insertion in the heel bone, as well as removing the spur. Many times during the procedure, pinched nerves (neuromas), adding to the pain, are found and removed. Often, an inflamed sac of fluid call an accessory or adventitious bursa is found under the heel spur, and it is removed as well. Postoperative recovery is usually a slipper cast and minimal weight bearing for a period of 3-4 weeks. On some occasions, a removable short-leg walking boot is used or a below knee cast applied.